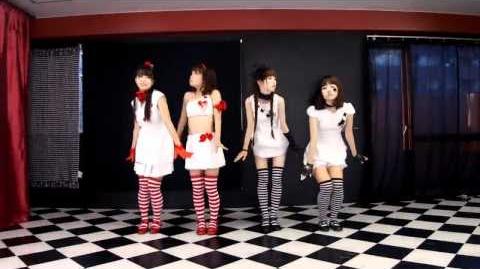 General Info.
Dancer(s)
DANCEROID3 (Maamu, Ikura, Kozue, & Yuzuki)
Song Name
Poker Face
Composer
YuchaP (Ych)
Apearances
DANCEROID3
Notes

They only had 3 days to learn and practice Poker Face before recording.

These outfits were made by putting red and black accessories on there white outfits from the DVDs DANCEROID2 & DANCEROID3.

First Video for DANCEROID3 run
 Main artical: Poker Face
This song was uploaded by vocaloid composer Yucha P on November 29, 2010, and has reached over 1,000,000 views. The song references terms that are commonly used in games like Poker (One Pair, Two Pair, Full House) and playing cards (Joker). It is the sequel to "Blackjack" sung by Luka.
This song was used as the 1st song in DANCEROID3's run. The girls had only 3 days to learn the dance before performing it in the video above and posting it on Nico Nico Douga and Youtube.
Ad blocker interference detected!
Wikia is a free-to-use site that makes money from advertising. We have a modified experience for viewers using ad blockers

Wikia is not accessible if you've made further modifications. Remove the custom ad blocker rule(s) and the page will load as expected.